Sulis Sophia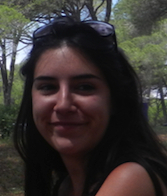 Curriculum Vitae
Affiliation
Laboratoire d'Astrophysique de Marseille
Technopôle de Marseille-Etoile
38, rue Frédéric Joliot-Curie
13388 Marseille cedex 13
Education
2014 - 2017 Ph.D. in Astrophysics --- Laboratoire Lagrange, Observatoire de la Côte d'Azur, France.
2012 - 2014 M.Sc. « Astronomy, Astrophysics and Spatial Engineering » --- Observatoire de Paris, France.
2011 - 2012 Science Certificate degree --- Université de Sherbrooke, Québec, Canada.
2009 - 2012 B.Sc. in « Fundamental Physics » --- Université Montpellier II, France.
Research experience
Dec. 2019 – Present Post-doctoral scientist, Laboratoire d'Astrophysique de Marseille, Marseille, France
Description TBD
Oct. 2017 – Dec. 2019 Post-doctoral scientist, Space Research Institute of the Austrian Academy of Sciences, Graz, Austria.
I am involved in the project "Stellar GRAnulation in Photometric Data: Properties, Predictions and an Analysis Tool for CHEOPS (GRAPPA)", funded by the Austrian Research Promotion Agency (FFG), as part of the Austrian contribution to the CHEOPS mission. Particulary, my objective is to characterize convection noise (''flicker'') at high temporal resolution for a wide range of stellar types.To do so, we use currently existing observations of the Sun and Kepler stars. Within GRAPPA, we aim to estimate the effects of flicker on the performance of CHEOPS and create a dedicated software tool to be included in the CHEOPS data analysis toolbox.
Oct. 2014 – Oct. 2017 Ph.D. student, Observatoire de la Côte d'Azur, Nice, France.
I realized my Ph.D. under the supervision of Pr. David Mary and Dr. Lionel Bigot. The objective was to investigate the possibility of using training dataset of a colored noise to improve the control of the significance level at which detection tests are conducted. Throughout the study, we focus on the particular problem of extrasolar planet detection in radial velocity time series and of the contribution of convective process, which induced a permanent stellar "jitter" leading to correlated RV variations with magnitude at the level of the smallest planet signatures. As reliable ab initio hydrodynamic simulations of the stellar surface convection activity exist, our studies prove that they can statistically improve the control of the significance assigned to planet detections.
Spring 2014 M.Sc. II final project, Institut d'Astrophysique de Paris, France.
This work was supervised by Dr. Alain Lecavelier des Etangs and Dr. Vincent Bourrier at the Institut d'Astrophysique de Paris. My first objective was to develop a Python fitting model of the Kepler light curves. The method consisted in fitting a polynomial function to the stellar continuum and then to fit an occultation function for the planetary transits. My second objective was to look for exoring signatures in the whole selected Kepler targets (several hundreds). This study modelled the ring signatures surrounding the planets with rectangular shapes of free size. Two kind of rings were considered : one was an opaque ring (real case) and the other one a bright ring (non real case) to verify if, statistically, the planet were better modelled by opaque rings or if, instead, the statistical noise can mimic the exorings signatures. We found no evidence for rings signatures.
Spring 2013 M.Sc. I final project, Laboratoire Atmosphères, Milieux, Observations Spatiales, University Pierre and Marie Curie, Paris, France.
I undertook a two month internship at LATMOS with Dr. Jean-Yves Chaufray in which I studied the hydrogen density in the venusian exosphere derived from Lyman-α observations by the SPICAV spectrometer on board Venus Express. The goal was to understand the release of hydrogen from the venusian atmosphere. I compared the observations to the results of Monte Carlo models, writing algorithms in Fortran and IDL. It is found that a cold and a hot hydrogen populations are present in the high atmosphere of Venus, and we were able to better characterize their properties.